Audiovisual translation within Translation Studies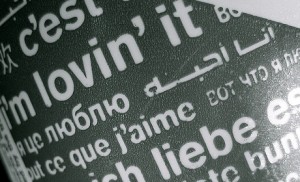 Rosanne Abdulla
Congress 2012 Correspondent
This morning, Jorge Díaz Cintas delivered an enlightening presentation, entitled The scope and potential of audiovisual translation within Translation Studies. This first event for the "Canadian Association for Translation Studies" 25th annual conference raised many innovative and thought-provoking ideas. Their conference deals with the theme of "Translation, Texts, Media," which is obviously quite relevant to our world today as well as to Congress 2012.
Cintas discussed many hot topics, such as simultaneous interpretation (which we definitely see this week!), dubbing, subtitling and sign language, including how Translation Studies touches upon a lot of accessibility issues. Personally, I am particularly interested in Translation Studies, so it was also interesting to see the challenges that exist in trying to always stay faithful to the original texts. One aspect that poses a lot of problems for translators is jokes, which are especially difficult to translate since they often rely on words and meanings that only exist in one language.
However, Cintas's focus was evidently audiovisual translation, an up and coming domain which, despite frequent use, is rarely recognized within Translation Studies. He emphasized the necessity of increasing the value of audiovisual translation because he believes that it is where the future of Translation Studies lies. If you are reading this article, then you already recognize the value of audiovisual communication in society today, due to the increasing presence of the screen in our daily lives. Cintas explained that children of this generation are reading less and less, instead preferring to use the screen to accomplish a multitude of tasks. We can read books or news, listen to music, watch movies or television, and communicate with friends, all in front of the screen. The internet and digital connections are everywhere.
Thus, in a society like this, we must remember the importance of all audiovisual technology at present, but also for the future. It is evident that the importance of multilingualism is increasing at a rapid pace as the world becomes more and more diverse. In the room this morning, I was fascinated to learn that more than 15 countries were being represented. Among people who know perhaps 4 or 5 languages, a skill that I am certain takes a great deal of intellect and perseverance, simply being bilingual suddenly seems a little less impressive!
Image courtesy of ntr23 on Flickr.