Differently Abled: The Brave New World of Techno/Cyborg Sports and Culture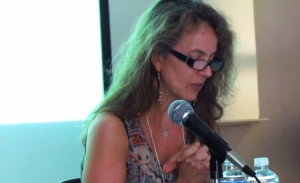 Caitlin Stone
Canadian Federation for the Humanities and Social Sciences
In my opinion, what makes disability studies such a unique discipline is its emphasis on storytelling and the experience of disability. As one of the few academic disciplines which values the intimate personal stories of individuals and the collective (much like Women's Studies and History to name a few), disability studies can inform academic work in an enriched way that theory alone cannot.
This unique aspect of disability studies was beautifully illustrated by Roxanne Mykitiuk and Eliza Chandler in their digital storytelling project, which they presented during the first of two panels on equity and disability that took place at Congress 2012. Accompanied by presentations from Jennifer Rowsell and Gregor Wolbring, the panel examined how technology can influence cultural perceptions of ability.
According to Mykitiuk, the use of artistic presentations can increase people's understanding and break down social constructions about what it means to live with a disability. Digital storytelling provides an accessible and captivating form of communication that engages its viewers with the content. For me, the digital stories shown during the panel were a reminder that each individual experience with disability is unique. Even my own experience growing up with a sibling living with a disability was unique in itself.
Not only does technology allow academics to communicate their ideas in a variety of forms, it can also alter the way we use our brains and bodies to learn and physically excel. Rowsell emphasized that there is an urgent need to rethink how literacy is taught in K-12 schools because methods that incorporate new learning technologies (such as tablets) can in fact increase social inclusion among differently abled students.
Using the case study of Oscar Pistorius, Wolbring questioned the separation of the Olympics and the Paralympics and how the use of prosthetic devices excluded individuals from the Olympics if they might lead to an unfair advantage. Wolbring critiqued that the Olympics were essentially an 'equipment race', and questioned what difference it would make if someone used a prosthetic limb. In closing, Wolbring emphasized that in the future there would be more cases like Pistorius. With enough resistance, changes in the way we perceive ability might shift eligibility requirements for Olympic competitions.
Photography by Brandon Telford, CFHSS Multimedia Intern.