Mary Eberts: Professor as citizen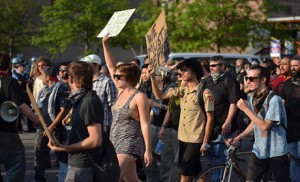 Rosanne Abdulla
Congress 2012 Correspondent
Would you like to change your life? After listening to Mary Eberts' inspiring presentation, it is easy to believe that this is possible. Part of the Big Thinking series, this event, titled Professor as citizen, took place on May 28th from 12:15 to 1:20 PM. Ever since the start of her career, Eberts wished to achieve her dream of having a positive impact on the world around her- not necessarily a small dream, but for Eberts, definitely possible.
During the hour, she discussed many important themes, such as equity, diversity, justice and liberty- again, not exactly small topics to tackle! But, of course, she focused on the notion of professors as citizens. It is not a surprise that most professors are quite busy with teaching, research and other academic responsibilities. In addition, many of them also have families to take care of. Thus, it becomes extremely difficult for them to find a balance between these tasks and the constant need to actively participate as a citizen of society. Furthermore, those just beginning their careers encounter even more trouble because these young professors must fight to gain the respect and the support of their colleagues, in order to acquire tenure. Each professor thus faces the challenge of using scholarship to improve society and helping others to find their own way of doing the same, despite all of the obstacles that arise.

Personally, I am not a university professor, but what struck me during Eberts' presentation was the fact that while presenting us with methods that academics can use to fight the inequalities that they encounter, her thoughts began to seem like advice that anyone could undertake on any given day. In my opinion, these strategies are applicable to any situation, even if you are not a professor.
First of all, what are your goals and objectives? You should reassess whether or not you really want to be in your current situation. For professors, are you passionate about working in academia? If yes, then you need to begin taking a stand when you are mistreated. Unsatisfied with the practices of your university? According to Eberts, the only way to provoke change is to stop being so passive in such situations. Otherwise, remember that it is always possible to leave. Each of us has the capacity to create other institutions or situations where we can share what it is that we do know, in ways that will inspire a better society.
Eberts' ideas are obviously most directly relevant to academia, but her enlightening presentation could prove thought-provoking for anyone. In finding the courage to put our ideas and our beliefs into practice, each of us can discover an inner strength that we never knew existed.
Image courtesy of Michael Kappel on Flickr.