The value of French Studies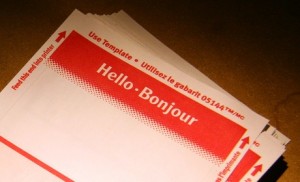 Rosanne Abdulla
Congress 2012 Correspondent
You have a degree in French Studies? And what will you do with it? I think that this question is exactly what a lot of students ask themselves when they get out of bed in the morning (or, maybe it's just me?). Regardless, this question was also the title of the first round table by the "Association des professeur.e.s de français des universités et collèges canadiens," which took place on May 27th from 4:00 to 6:00 PM.
A variety of subjects was discussed here, including the place of bilingualism in the world today and the challenges that come with being a professor, with an emphasis on the difficulty of breaking the ice in order to create a connection with the students. First of all, we should never forget the pleasure and inspiration that the study of French (during the discussion, the focus was placed on literature courses) can bring. But aside from studying merely for the joy of studying, many students do not see what good it will do them to take French, a major that is often criticized for not being concrete enough. So, what can be done when students do not want to be in class, cannot figure out why they are there, and even the professors are unable to really explain the role of French Studies today?
If you study or teach at the University of Waterloo, you surely understand the importance of scientific discovery, which is especially apparent in faculties such as Math, Science and Engineering. Technology also plays a critical role in the development of our campus. So, in a university like ours, we must again ask ourselves this typical question: what is the value of a subject like French Studies?
With questions this difficult, we did not necessarily come to any specific answers after two hours. But, one thing became clear: during a week that focuses on the humanities, we must valorise the study of literature and of language. We must concentrate on the transferable skills that we acquired while studying French. We will benefit the most from these general qualities that we can apply to many domains, just like any other humanities student must do. In a nutshell, just being bilingual is not enough. I know that this statement will surprise a lot of readers because I am always surrounded by people who believe that the opposite is true. If you have a degree in French Studies, then you have probably heard the exclamation: "You're bilingual? You will find a job, no problem!" However, problems still seem to pop up.
Overall, it is not always easy to stay optimistic regarding the job market for French Studies today, but we must keep all of our other skills in mind, along with the fact that we can speak a second language. That being said, if you are looking to hire someone bilingual, feel free to let me know anyway!
Image courtesy of sfllaw on Flickr.