Today at Congress: Wednesday, May 30—Day 5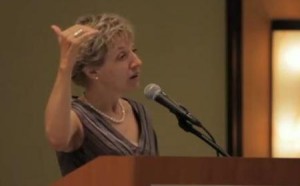 Alison Hebbs
Canadian Federation for the Humanities and Social Sciences
Wow. Yesterday was incredible. And, I didn't even make it to Atwood's lecture. So, given how utterly wonderful I hear it and she were, that's saying a lot. I was busy responding to the outside world's intrigue with Congress. From the Census to education policy in Alberta to Paralympics and inclusion, Canadians want to know what is being discussed here at Congress. I hope today's newspapers, blogs and websites are chock-a-block with the kinds of insights and information the humanities and social sciences can bring them about their communities, health, well-being and lives… a major goal of Congress.
But, thankfully, even reporters do settle down as the news day rolls on… allowing me to go to Don Tapscott's evening lecture. For me, he was a perfect Big Thinker for this year's Congress in K-W. He represents for me, not only a technology and change advocate, but a champion of the value of a broad education in the arts and sciences. Because of his leadership, just over 10 years ago, 30 of Canada's most prominent high-tech CEO's publicly requested more grads from the arts and social sciences for their companies. I still see that as a pivotal moment in what has been more than a decade for me promoting the value of a broad education—one that not only teaches you to learn, think, solve, adapt, but helps you place knowledge and ideas in a broader context to create meaning. Thanks Don! If you missed it, we'll tweet as soon as the video is up.
Today, I'm pleased that many other inspirational people and events will roll out on these beautiful campuses:
There is a fantastic panel being moderated by Gerri Sinclair on the digital economy from 9:30 to 11:30 in the Paul Martin Centre of the Dining Hall at WLU. Leading innovators and digital media specialists will discuss successful research collaborations with partners from the digital media industry and the public sector. Read more here.
At 9:00 a.m. at 202 Regina Street, Room 270 and again at 10:30 a.m. in the Peters Building, Room P1017, (both on WLU campus), Shari Graydon of Informed Opinions will explore the causes and consequences of the under-representation of women's perspectives in public affairs commentary, and offer some concrete strategies for overcoming the obstacles to participation. As a "graduate" of her workshops, I can tell you they are extremely helpful and Shari is a marvelous presenter!
Through our partnership with the Trudeau Foundation, we are thrilled to have Janine Brodie as our lunch-time Big Thinking lecturer today. Janine will be speaking about the relationship between social literacy, social justice, and the social sciences, historically and in the contemporary era of financial insecurity and public austerity. Catch her from 12:15 to 1:20 p.m. in Maureen Forrester Hall in the John Aird Centre on Wilfrid Laurier University's campus.
If you haven't yet checked out what that cow is doing just beyond the Laurier beer tent, then you haven't seen the Mobile CrimeLab, where you can check out recent interactive projects completed by the CML collaborators in the field of mobile computing.
And, the wonderful art exhibit in UW`s Art Gallery, Uncertain World is ongoing. It addresses themes ranging from environmental degradation to urban sprawl, and from First Nations land claims to the Occupy movement, a wonderful exploration of this year's theme 'Crossroads'.
As always, to pick and choose what suits you, click on Events and Programs and select May 30. Happy hump day!