Crossroads: Race and Gender in the Canadian Academy - Searching for Equity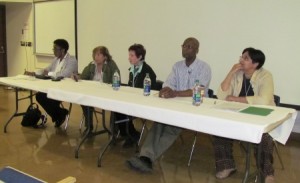 Caitlin Stone
Canadian Federation for the Humanities and Social Sciences
During the afternoon of May 31, Frances Henry, Carol Tator, Carl James, and Ena Dua gathered to present their research and findings on the marginalization of racialized faculty in Canadian universities. Research was conducted using personal interviews, surveys, and site visits and the results were not surprising. As Tator explained, universities have been very slow to make positive changes to make their universities a more equitable environment for racialized faculty members. What often occurs is that administrations will pay lip service to equity issues for faculty but no real changes will take place.
The majority of faculty surveyed who identified as a visible minority were professors in the fields of engineering and business. Henry explained that it was even less common to see racialized faculty members teaching in the humanities and especially in the social sciences. Interesting, considering that these fields of study are those which inform the research on the discourse of race and gender.
According to James, racialized faculty have to work twice as hard as their colleagues to obtain the same recognition for their efforts and contributions to academia. The systemic challenges faced by these faculty members are issues that never affect non-racialized colleagues.
Dua expressed the difficulty she experienced in collecting information about race through common sources of statistical information, such as Statistics Canada. This complicated the research process and required the researchers to do a bit more leg work to obtain the data they required. Information about gender was generally more accessible.
While listening to what each panelist had to say about their research and how they were operationalizing racism in the academy, all I could focus on was the real experiences of their subjects. I understood that the nature of the research required complete confidentiality, but I did not hesitate to approach Dua to ask how these stories affected her as a researcher. Her reply was that it was much easier to listen to the stories of individuals from a research lens, but that she was fully aware of how racism in the academy profoundly affected many of her subjects. She agreed with me that these experiences can be horrific and shared that there have been instances in her own professional life where her colleagues were marginalized because of their skin colour.
It was interesting to hear how researchers operationalized racism, and what challenges they experienced while trying to collect data. Listening to the panelists left me with a similar question that Dua posed at the end of her presentation: What are the politics of gathering information on race as issues of race increasingly gain more attention from researchers and funding partners?
Photography by Caitlin Stone, CFHSS Policy and Research Intern.