Crossroads: The Status of Gender, Women and Sexuality in the Academy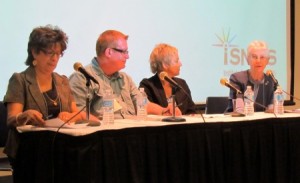 Caitlin Stone
Canadian Federation of the Humanities and Social Sciences
Many scholars in the social sciences and humanities have spent years critically examining the social constructions of gender and sexuality in society and how women are expected to behave in social settings. While academic settings seem to be environments that welcome difference, many professors who identify as gender-queer are met with social resistance in their own workplace. In addition, female professors are expected to perform according to traditional gender roles. As one panel audience member recalled: "my teaching evaluations have been the highest they've ever been when I am kind, caring, and soft spoken towards my students."
Together, Janice Ristock, Margaret Ann Armour, and André P. Grace explored how academic culture treats the issues of gender, women, and sexuality in the academy. Ristock mentioned that some faculties and some disciplines are more inclusive while others submit to an involuntary acceptance of individual's differences. Research on gender-queer issues is scarce and funding for these projects is largely dependent on a university's priorities. Ristock explained that research in these areas will allow faculties to engage in critical discussions about gender and sexuality on campus all while promoting the need for change.
Similarly, Dr. Grace spoke about the historically entrenched theocratic resistance from the Catholic Church against the openness of LGBTQ students and staff at universities. Grace explained how the heteronormative categorization of sexuality has been a real social barrier for students and staff who identify as sexual minorities. The Institute for Sexual Minority Studies and Services at the University of Alberta is directed by Dr. Grace. The institute is an interdisciplinary hub that conducts research and facilitates Camp Fyrefly which focuses on developing ways to support the needs of students and youth who identify as a sexual minority.
Despite the fact that Congress 2012 is geared towards scholars in the social sciences and the humanities, audience members were fortunate enough to hear from Dr. Armour who spoke about women's enrollment and participation in science programs. Armour herself acknowledged that it was a bit of an oddity to be presenting at a conference on the social sciences and humanities given her background in chemistry, but she pointed out that the critical perspectives and theory which are contributed by the arts help to inform why so few women are enrolled in the sciences. Currently the Associate Dean of Science - Diversity at the University of Alberta, it is Armour's responsibility to investigate why women are not enrolling in the sciences, and how this can be changed. Armour's presentation highlighted how parenting, work-life balance, systemic biases, the culture of science, and the workplace culture can deter women from entering into the sciences.
As a student who is completing a minor in Women's and Gender Studies, I can understand the perspectives and concerns of the panelists. I found it discouraging and disturbing to hear personal accounts from individuals, in a position of authority, who are met with discrimination and ridicule from colleagues solely based on their sexual orientation and gender. What stuck out the most for me was Armour's advice in her final remarks:
"In order to make a change, we need to ask more questions and make fewer statements."
Photography by Brandon Telford, CFHSS Multimedia Intern.