Rethinking Creativity and Innovation from a Disability Studies Perspective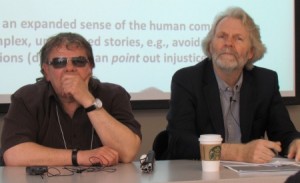 Caitlin Stone
Canadian Federation for the Humanities and Social Sciences
Disability is often seen as a condition that requires a solution. Growing up with a sibling living with a physical disability, I can clearly recall the long rides to numerous doctors' appointments. For years, I watched my younger sister get prodded, poked, examined, photographed, and scanned by various medical professionals.
In the second of two equity panels on disability and culture, Tanya Titchkosky, Michael J. Prince, and Rod Michalko explored how disability studies challenges the common conception of what it means to be human. Collectively, the three presentations deconstructed ableism as a cultural concept, and challenged the audience to re-vision their understanding of ability.
Titchkosky began by describing the gruelling and strenuous process of evacuating several mobility impaired students from one of her classrooms due to a fire hazard in a nearby part of the building where she was teaching. It was immediately clear to her that this forced evacuation was more of a danger to her students than the isolated fire itself. Titchkosky emphasized that Disability Studies needs to tell these and similar stories in order to help others realize that a situation like this evacuation is not an isolated event; only affecting those with mobility impairments. Instead, Disability Studies needs to inform and recount how all human stories (including those which involve disability) collectively create and define what it means to be human.
In a short period of time, Dr. Prince explained the several areas that make up the Canadian disability community. He also spoke of the divergent perspectives that exist within the community; including (but not limited to) charitable paternalism, spiritualist humanitarianism, forbidden narratives, official rhetoric, and the discourse on systemic oppression. Prince emphasized the importance of engaging politicians in the discourse of disability to facilitate innovation and talks about creating change.
Personally, I was able to really appreciate Michalko's critique of our constructed need to quantify disability. Governments are far less concerned about an individual's experience and far more concerned about "rates", and most importantly that the rates of disability are going down. Michalko spoke in great detail about the experience of disability and how disability feels and means different things to different people. Collecting rates and numbers on disability only reproduces the notion that disabled bodies are problem bodies. Michalko, who spoke from his own experience of blindness, challenged audience members to consider that this quest to "solve disability" may never reach a solution.
To conclude, Michalko described (and I am sure my sister would agree), "that being a problem is a strange experience."
Photography by Caitlin Stone, CFHSS Policy and Research Intern.