Un/Certain Words: Two Nights of Literary Readings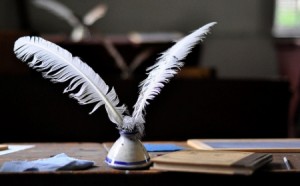 Milena Stanoeva
Canadian Federation for the Humanities and Social Sciences
Wordsmiths, writers and lovers of rhyme
Here is your chance to have a good time
On May 27 and on May 28
Congress will host a poetry fete
Un/Certain Words, a two-night event,
Is a celebration of writing talent
Come for poetry readings from near and far
There will also be free snacks and a cash bar
Amanda Jernigan and Chris Banks will be there
Tanis MacDonald and Lacey Beer will add to the flair
Andy Weaver, Jamie Dopp, Rob Winger and more
Don't miss all that this event has in store
Un/Certain Words will feature fiction and poetry readings by an international line-up of authors, including winners of the CBC Literary Award, the Confederation Poets' Prize, the Bliss Carman Poetry Prize, the Australian/Vogel Literary Award, the Far Horizons Award for Poetry, and finalists for the Pat Lowther Award, the Trillium Award and the Governor General's Award. Don't miss this chance to hear some of the best writers in the country.
May 27 will feature readings by Amanda Jernigan (Groundwork), Carrie Snyder (Hair Hat, The Juliet Stories), Darren Bifford (Wedding in Fire Country), Andy Weaver (Gangson), Warren Heiti (Hydrologos), Lucy Alford, and Lacey Beer.
May 28 will feature readings by Brian Henderson (Nerve Language, Sharawadji), Chris Banks (Winter Cranes), Rob Winger (Muybridge's Horse), Jamie Dopp (The Birdhouse Or), Kristel Thornell (Night Street), Shannon Maguire (Vowel Wolves and Other Knots), Tanis MacDonald (Rue the Day) and David Walter-Toews (The Complete Tante Tina).
All Congress delegates, students, and members of the public are welcome to this free event. There will be free snacks and a cash bar. The event will take place at Wilfrid Laurier University's Student Services Building in the Graduate Students Lounge on the first floor from 7 to 9 pm.
Image courtesy of SpecialKRB on Flickr.