Today at Congress: Thursday, June 1—Day 7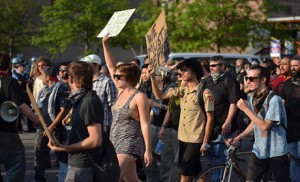 Alison Hebbs
Canadian Federation for the Humanities and Social Sciences
Well, it's a wet one out there people and the forecast doesn't look promising. Good thing we have lots to keep you warm, happy and intellectually engaged right here on these beautiful, albeit soggy, campuses.
A half-day session on the dissemination of SSH research is taking place from 09:00 to 12:00 in Room BA202 in the Bricker Academic Building on the Wilfrid Laurier University campus. Linda Baer, David Mitchell, John Willinsky, Brian O'Leary, Frits Pannekoek and Rowland Lorimer will assess the rapidly changing environment in which scholars must develop and share their research and the resulting challenges and opportunities.
Also this morning, James Deaville presents "Occupy Music: Collective Protest, Voice and 'Microphonality'" in the Maureen Forrester Recital Hall in the John Aird Centre on Wilfrid Laurier University campus.
The Career Corner session taking place in the Expo Hall at 10:30 will address how to get your scholarly work published and offers students and scholars a chance to speak directly with editors of Canada's top publishing houses (UTP, UCP, UMP).
Starting at 1pm, Janet Halliwell will moderate a half-day session on open-access, put together by CFHSS vice-president, Ray Siemens. Presenters, including Rowland Lorimer, Susan Brown, Richard Smith, Thérèse DeGroote, Monique Zaloum, Michael Eberle-Sinatra, John Willinsky, Melissa Pitts and Guylaine Beaudry, will look at how to operationalize open access in the Canadian context. You will find this session in room BA202 in the Bricker Academic building on the Wilfrid Laurier University campus.
Another interesting panel this afternoon is being presented by the Canadian Association of Geographers and features Penny Park, Lucie Edwards and Ann Dale. They will discuss science, policy and society and will speak to the challenges of bridging the divide between scientific research (pure and applied), government policy (formation, regulation and analysis) and social understanding and engagement. This session is taking place in room 1E1 in the Arts Building on Wilfrid Laurier University's campus.
As always, to pick and choose what suits you, click on Events and Programs and select June 1. TGIF!
Image courtesy of Michael Kappel on Flickr.