The top 7 reasons smart women should speak up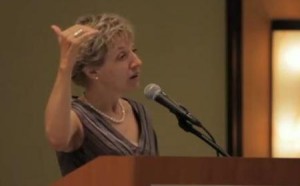 Milena Stanoeva
Canadian Federation for the Humanities and Social Sciences
Why are women's voices still underrepresented in opinion pages, letters to the editor and public policy debates, and what can we do about it? These are some of the questions that Shari Graydon, Catalyst of Informed Opinions, will address in her Career Corner sessions, "The top 7 reasons smart women should speak up." Ms Graydon has made a successful career for herself out of educating youth about media literacy and empowering female experts to make their voices heard. Now she is bringing her insights to Congress in an effort to help academics adapt their research findings for news organizations and share their expertise with the public more efficiently.
Ms Graydon says that research has found that women don't submit commentary as frequently as men and the unequal distribution of opinion columns reflects that. Part of the problem, according to her, is that women tend to spend more hours on caregiving responsibilities for parents and members of their communities, leaving them less time for contributing to public discourse. Women also hold themselves to a higher standard of expertise – they tend to downplay their expertise and suggest other people who know more on a given subject when asked for comments.
This is a problem, because research has found that the capacity of decision makers faced with challenges is enhanced with a diversity of perspectives. Ms Graydon points out that corporations that are diverse and have more women in senior executive positions tend to do better financially and relate better to customers. "Public discourse and the role of media in influencing discussion on social problems and policy shows that it doesn't make sense to rely on the perspectives of only half of the population," says Ms Graydon. "More women's perspectives need to be included."
Ms Graydon shared with me some of the ways in which she empowers women to become more active in public discourse. "I point out to them that they've invested so much in their own expertise," she says. She argues that women who are passionate about specific issues should not see their participations as self-serving, but rather as an extension of their advocacy work. Sharing their expertise on an issue means that that issue becomes more prominent in the news. It also means that raising funds or research money for that issue becomes easier.
"The top 7 reasons smart women should speak up" will be held on May 30, from 9 to 10:30 am in 202 Regina Street (WLU), room 270 and from 10:30 am until 12 pm in the Frank C. Peters building, room P1017. For more information, consult our Events Calendar.
Informed Opinions is a not-for-profit that trains and supports experts in making their ideas and knowledge more accessible to print, broadcast and online information media.