Stories and Infused Learning: Songide'ewin Aboriginal Narratives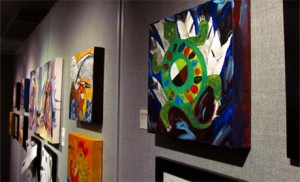 Krista Boniface
Congress 2012 Correspondent
Walking into the Robert Langen Art Gallery, an amazing sense of calm swept over me. The intimate space profiling the Songide'ewin: Aboriginal Narratives is illuminated by the numerous intuitive paintings and stories by the diverse community of artists on the project created by Rene Meshake, Ojibwe artist and author and Dr. Kristina Montero, Faculty of Education assistant professor at Wilfrid Laurier University.
Visual and literary storytelling is the root of the dialogue that can be fostered "toward truth and reconciliation between Native and Non-Native communities" as told in the exhibit. Outstanding art pieces by local high school students, mentors and preservice teachers sensitively tell the stories and symbols of Aboriginal culture and of the individual creative process.
"Art after all, is a reflection of our deepest spirit, our souls and the appearance of our true uncensored selves."
The piece entitled "Unity" by Eric Flemming and the SJAM Native Arts and Culture Students of Sir John A. MacDonald Secondary School invigorated my own reflection of our perceptions based on culture, heritage, race; who are we and who do we appear to be? The acrylic painting is a textured expression of multiple colours and symbols including a turtle with what could be a representation of a medicine wheel painted on its shell and eagle feathers surrounding it. The fusion of Aboriginal culture and collaboration of the dynamic teaching process is truly demonstrated.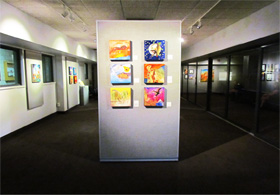 To me, the colours and animal symbolism reflect harmony not only through the visual movement within the piece, but also in the underlying story of collaboration that the project itself embodies. Moreover the written response "See What You Choose to See" by Cassandra Bice-Zaugg in relation to "Unity" captures a personal exploration into the spectrum of Aboriginal identity and the significance of perceptions, feelings and attention given in return.
The cross-cultural dialogue of Aboriginal teachings and worldviews through Songide'ewin: Aboriginal Narratives along with Meshake's series of thirteen paintings titled Truth and Reconciliation will be open to the public throughout the week. Drop by the Robert Langen Art Gallery to make your own reflections on the artwork using the provided note cards to be part of a future anthology and the ripple effect of Aboriginal teaching and learning until Thursday, May 31.
Photography by Brandon Telford, CFHSS Multimedia Intern.