Sidonie Smith: "How Have You Been Communicating Lately?"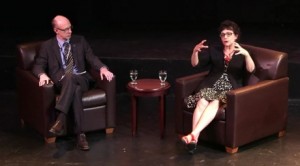 Krista Boniface
Congress 2012 Correspondent
The struggles between "bookishness" and the me ++ phenomenon of social media were highlights of Sidonie Smith's riveting Big Thinking lecture yesterday. She dug in and asked those in the room questions that maybe (maybe) we've been avoiding.
What role does current scholarship play in an uncertain world? Are academics setting their doctoral students up for success in many fluid capacities? Or into associate professor roles that seem hard to come by already? What is the state of the Humanities and what are the solutions to empowering those who are setting the roots in the ground to make positive and productive change from the classroom up?
Smith was the slam poet of the hour. Toward a sustainable Humanities: reconceptualizing doctoral education for the 21st century not only provided micro narratives of the age of digitalization, but solutions on how to continue despite the roadblocks. And with her experience as President of the Modern Language Association , it is absolutely refreshing and powerful to have a dynamic thinker like her join Congress 2012.
In order to keep up with the demand for public funding and an increasing debt load on all accounts, Smith stated that "a major university needs to be created every week" to keep up with the post-industrial "knowledge economy". With half of the world's population under 20 years old and as noted by Smith to rise in the next decade to 100 million; it's no wonder we're all feeling the heat.
Her argument is sound: higher education is under threat. Professionals and amateurs alike must mobilize around a change that will both empower a new digital archive of knowledge, while simultaneously creating room to collaborate through the shared challenges. As universities around the world morph into what Smith discussed as "distributed institutions", University officials, academics, community members and students all stand at the crossroads of barrier and opportunity.
I believe we must take Smith's message to empower each of our minds and inspire action that can overpower the dismay of uncertainty within the Humanities and Social Sciences. We must justify value as scholars in our own right (and write) to embrace the positivity that digital technologies can bring - to teaching, learning and all spaces of thought! At the same time, we must also maintain the needed educational pillars of credibility and professionalism that have built the Humanities into how strong they stand today.
And how do we start? By being open to new trends, new ways of thinking and of opening our ideas up to the public. Smith lauded of Dan Cohen's blog as a great place to start for ideas. As a professor at George Mason University, Cohen is changing the landscape of academia through (gasp) the internet! Additionally on the ground at Congress 2012, we have our own micro-blogging and twitter communities #Congress2012. Take for example @readywriting who has compiled Sidonie Smith's lecture on Storify. What a fantastic digital archive of an event that can inspire us to create not only open access in doctoral education, but a collaborative effort towards the creation of a more sustainable Humanities.
Click here to read Sidonie Smith's lecture.