Re-Thinking Creativity, Innovation, and Disability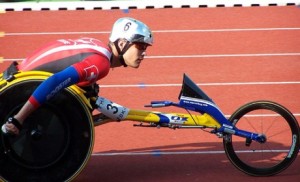 Caitlin Stone
Canadian Federation for the Humanities and Social Sciences
How does a disability studies approach challenge our perception of cultural, social, and aesthetic norms? What innovative and creative solutions are offered by disability studies that challenge us to re-think ordinary knowledge production? How can the human body and its abilities inspire innovations in science, technology, culture, and sports? These questions and others will be explored in the disability studies component of the Equity and Diversity series at Congress 2012, organized by CFHSS's Equity and Diversity Portfolio.
The first panel on innovation and disability, Differently Abled: The Brave New World of Techno/Cyborg Sports and Culture, will take place Wednesday May 30 at 3:30 p.m. This panel will investigate how the human body and its abilities are a constant source of inspiration in the areas of science, technology, culture, and sports. This panel will also explore the linkages between access and inclusion, technological innovations, and changes to the social understanding of ableness with leading scholars in the field.
On May 31 at 1:30 p.m., Rethinking Creativity and Innovation from a Disability Studies Perspective will explore what the future holds for people who are living with disabilities. This panel will be followed up by a brief reception and the chance to mingle with academics who continue to publish innovative research in the field of disability studies.
For more information, visit the Congress Events Calendar .
The Canadian Federation for the Humanities and Social Sciences would like to thank our sponsors for their generous support of the Equity and Diversity series at Congress 2012:
Canadian Civil Liberties Association
The Canadian Journal of Disability Studies
Canadian Sociological Association's Equity Subcommittee
Office of the Provost/VP Academic at the University of Calgary
Ontario Institute for Studies in Education
University of Alberta
University of Manitoba
University of Toronto
York University
CFHSS would also like to thank our partner associations, for their partnership in coordinating the Equity and Diversity series at Congress 2012:
Canadian Association for the Study of Women and Education
Canadian Disability Studies Association
Canadian Philosophical Association
Canadian Society for the Study of Education
Queer Studies in Education and Culture
Image courtesy of Elmar Beckmann on Flickr.