Panel Discussion: Imagining Canada's Future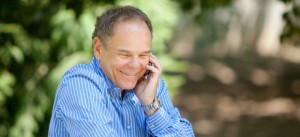 Krista Boniface
Congress 2012 Correspondent
Is it terrible that I'm addicted to Twitter? Honestly, it's hard to stay away from this social media platform, since it empowers the exact collaboration spoken of during the Social Sciences and Humanities Research Council's Panel Discussion: Imagining Canada's Future. From « Tweet-ups » (basically meet-ups of the congress people you've been talking to all week!) to sharing notes and passing on information, #Congress2012 to me has been a congretation of what we, together, imagine #futurecanada / #futurcanada to be like.
Maybe it was the fact that Don Tapscott said some profound things about my generation that I don't even know if we know ourselves! As we live and work and play in this digital age, it is a true example and possible reflection of how we can begin Imagining Canada's Future. Technology that links human intelligence is more powerful than I think was ever imagined.
Tapscott, along with Dan Gardner and Diana Carney, took big thinking to an incredibly comfortable level, where many audience members were compelled to interact with the ideas being conveyed in many ways.
Dan Gardner led a fascinating discussion on the "subversion to experimentation" in today's world. He spoke of the need to acknowledge that you don't know the answer at times. I believe this rings true beyond his example of politicians and reaches out to all of us who have the ultimate choice to act on our instincts and unique ethics. The reasons to act or not are sometimes invisible and always contextual, which may induce anxiety. However, what I believe Gardner was getting at is that it doesn't need to produce anxiety if we understand the root cause of innovation and use that end goal to empower our actions now.
Moreover Don Tapscott contributed to the topic of "risky experimentation", calling it a paradigm wherein many people cannot embrace the new. He brought up the example of the Gutenberg Press as "printed knowledge" in a historical and metaphoric sense of word that was circulated as THE word of the day. Tapscott asserted, « this is not an information age, this is an age of collaboration".
Indeed, our lives are becoming more accessible with new media and social media. But I believe, along with many educational collaborators in the room and in the twitterphere that there is an underlying hope. We cannot keep telling ourselves that change will happen whether we will it or not. Policy is created out of a need, yet it also creates barriers and layers of bureaucracy. A few years down the road, the totality of the layers created out of miniature needs will likely produce major road blocks for our future and the future of generations to come. Tapscott's theory of a "burning platform" — speaking to the idea that nowadays it can often cost more to be stagnant than to be the active and resilient — empowers this exact notion. Even Chad Gaffield, President of SSHRC, contributed his agreance towards a push for innovation, stating that the industrial model "flies in the face" of the new innovative ways in which we think and learn today. What an interesting thought as we clammer to find that a new generation is ready to resist the uncertainty in our world today!
And so I leave you with this thought. As we, the recent graduates, professors and professionals meet at the crossroads of scholarship in today's world of uncertainty and at points, of stagnation, I wonder, are we ready to begin? Are we ready to take on the challenge and opportunity to get more involved? Are we ready to be open to difference and the "unknown"? Are we ready to begin a process together that can motivate and share a goal which empowers critical thought and further progress (whatever form that may be) towards Canada's future? I'm ready. Are you?
Image courtest of Don Tapscott on Flickr. Creative Commons Atributed, this man practices what he preaches.