Margaret Atwood: Bedtime Stories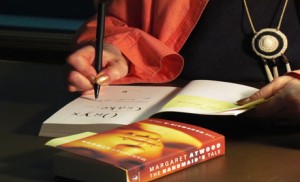 Maria Dubecki
Congress 2012 Correspondent
The Humanities Theatre was packed to capacity Tuesday afternoon for Margaret Atwood's Big Thinking lecture, Bedtime Stories, and I have to say it was an incredible honour to be in the audience. I'm going to make the beginning of this post a bit personal because I'm a big Margaret Atwood fan.
For my grade nine "independent studies unit" I remember choosing to read Margaret Atwood's The Handmaid's Tale for no other reason than it was by a Canadian author. I'm not sure why its Canadian authorship was important to me at the time – perhaps it was because my teacher made a point of saying it was by a Canadian, or maybe my friend Anne (you know, of Green Gables?) had subconsciously geared me towards Canadian writing. In any case, when I read The Handmaid's Tale in grade nine it was the first time I remember actually thinking about and truly engaging in a novel. Fast forward eight years and I'm completing my undergrad degree in Literature and Professional Writing… I like to think these two facets of my life go hand in hand.
I clearly wasn't the only Margaret Atwood fan to attend her Big Thinking lecture. With every seat in the theatre filled, and the doorways crowded with eager want-to-be-audience members, Atwood attempted to slide in through a side-door but was loudly applauded before she was even introduced.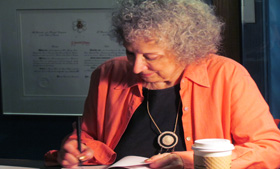 In her lecturing, as in her writing, Margaret Atwood knows how to engage her audience. She was hilarious and deeply thought-provoking.
The author approached a discussion on the uncertain state of the world using her book Survival as an entranceway. She comically compared what writing a book called Survival meant 40 years ago, when few questioned the importance of the humanities, to what writing a book called Survival would mean today (a narrative adaptation of the reality TV show Survivor or a hand-book for the end of the world were among her present day possibilities). Clearly times have changed. Moving from a description of Canada's 1960s/70s literary scene to the self-publication possibilities created by today's internet culture, Atwood's lecture explored the changes that have impacted writers, as well as the larger population.
Yet, Atwood also made a point of things that haven't changed. Importantly, among the things that haven't changed are the qualities that make us human. Atwood concluded her lecture stressing one innately human quality – story telling.
Elaborating on the title of her lecture, Atwood explained that bedtime stories are meaningful not only as a child's first encounter with stories, but because traditionally stories were told in the evening (even to adults) when it became dark out and the day's work was done. The weight of this meaning was realized in Atwood's closing lines: "Yes, the world is uncertain. Yes, it's dark," but according to the tradition of bedtime stories, "we listen better in the dark."
Photography by Brandon Telford, CFHSS Multimedia Intern.