Knowledge for all: The key to progress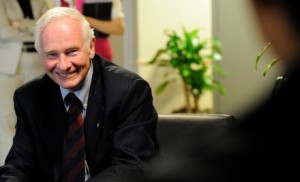 Mélanie Béchard
Canadian Federation for the Humanities and Social Sciences
Of the many highly-anticipated speakers in the Big Thinking lecture series, perhaps none is as highly-anticipated as the Governor General of Canada. His Excellency, the Right Honourable David Johnston's return to the K-W region to participate in Congress 2012 – co-hosted by Wilfrid Laurier University and the University of Waterloo, of which he is the former president – will undoubtedly bring an enthusiastic welcome typical of a hometown crowd.
But His Excellency's address tomorrow will be more than a simple homecoming. Speaking to an audience and a community for whom innovation and collaboration are the norm, he will deliver a call to action, urging collaboration between universities and the communities in which they live.
Prior to his talk, the Governor General will host a discussion on university-community engagement with stakeholders from academic and community groups such as the Canadian Federation for the Humanities and Social Sciences (the organization responsible for Congress 2012), the Social Sciences and Humanities Research Council, United Way-Centraide and the Association of Universities and Colleges of Canada. Together, these stakeholders will put forward commitments to further cross-sector collaboration and the mobilization of knowledge for the benefit of Canadians and their communities.
His Excellency will then address Congress attendees and the general public, touching on the importance of social innovation and collaboration across sectors. His talk will be followed by comments from Jacline Abray-Nyman, president and CEO of United Way-Centraide, and Paul Davidson, president of AUCC. Both will discuss what their respective communities can do to move the idea of community-campus connections forward.
The discussion doesn't end there. The Governor General will attend a panel discussion organized by the Canada Foundation for Innovation on how universities can play a larger role in the cultural, economic and social lives of the communities in which they operate. Representatives from CFI and the Canadian university community will examine terms like "service" and "community," how their meanings are changing, and how working academics can serve their communities in more dynamic ways.
Indeed, this will be a note-worthy kick-off to a broader theme of campus-community collaboration that is woven throughout Congress. Below is a list of some of the programming that will be of interest to folks interested in social innovation and Canada's future:
Saturday, May 26
10 a.m. to noon
Stakeholder meeting (by invitation only)
12:15 – 13:20
"Democratizing knowledge: The key to progress"
His Excellency, the Right Honourable David Johnston, Governor General of Canada
John Aird Centre (WLU), Maureen Forrester Recital Hall
14:30 – 15:30
Research, education and service to the community: New ideas for a world of new demands
Canada Foundation for Innovation
Dining Hall (WLU), Senate and Board Chamber
Tuesday, May 29
09:30 – 11:30
Imagining Canada's Future
Social Sciences and Humanities Research Council
Dining Hall (WLU), Paul Martin Centre
13:30 – 14:30
Thinking Ahead – What will Canada look like in 2030?
Social Sciences and Humanities Research Council
Dining Hall (WLU), Paul Martin Centre
Wednesday, May 30
09:30 to 11:30
SSHRC panel discussion at Congress 2012: Partnerships in the Digital Economy
Social Sciences and Humanities Research Council
Dining Hall (WLU), room Paul Martin Centre
12:15 to 13:00
The social innovation ecosystem in Ontario
Association for Nonprofit and Social Economy Research
Environment 3 (UW), room 1408
16:15 to 17:15
Social innovation and the resilience of the social ecological systems
Association for Nonprofit and Social Economy Research
Arts Lecture Hall (UW), room L113
Thursday, May 31
12:15 to 13:30
Campus-community research collaboration: New approaches for the 21st century
Association for Nonprofit and Social Economy Research
Arts Lecture Hall (UW), room L113