Introducing the Congress Expo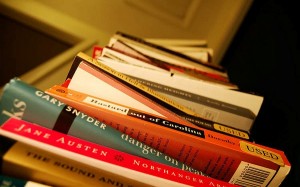 Milena Stanoeva
Canadian Federation for the Humanities and Social Sciences
One of the best attended and most highly-anticipated parts of Congress is the Congress Expo, where attendees can meet exhibitors from various organizations, including publishing houses, and load up on new reading material. While the Expo is a treat for any book lover, the thousands of titles can be overwhelming. That is why we asked this year's Expo publishers about which books from another publisher they most want to find at the Expo.
Eric Rumble of Alternatives recommends Oil by Gavin Bridge and Phillpe Le Billon (Wiley; out date October 2012) "For Canadians, the rancorous debate that is now raging over Economy vs. Environment comes down to one element: oil (or, more specifically, tar sands). Regardless on where you stand on the issue, it is imperative to understand the full dynamics of the politicization of oil."
Annie Gibson of Playwrights Canada Press writes "Hands down, the book I'm most interested in picking up is Tombs of the Vanishing Indian by Marie Clements (Talonbooks). I was lucky enough to catch this play during its run in Toronto, and can't wait to get the book to revisit it. Marie is a wonderful writer, and her work is truly moving."
Clare Hitchens of Wilfrid Laurier University Press is looking forward to picking up "Stuart Henderson's Making the Scene: Yorkville and Hip Toronto in the 1960s (University of Toronto Press), an engaging read about the counterculture of Yorkville and the tensions between youth and authority."
Donna Livingstone of University of Calgary Press recommends Speaking in the Past Tense: Canadian Novelists on Writing Historical Fiction by Herb Wylie (Wilfrid Laurier University Press), Psychedelic Psychiatry: LSD on the Canadian Prairie by Erika Dyck (University of Manitoba Press), and The Nature of Borders: Salmon, Boundaries, and Bandits on the Salish Sea by Lissa K. Waddewitz (University of British Columbia Press).
Karen Green of Anvil Press writes "I'm looking forward to checking out Vehicule Press's The Body on Mount Royal by David Montrose – a pulp fiction classic from the fifties that Vehicule published in April. They've published two other 'Russell Teed' vintage mysteries over the past couple of years and I'm eager to check them all out. We released two Vancouver 'classic' titles last year and I'm interested to see a Montreal classic, especially a nice 'pulp-y' dark Montreal mystery!"
Tim Patterson of Broadview Press writes "I'm very interested in picking up the newest Michel Tremblay novel translated by Shelia Fischman, Crossing the Continent (Talonbooks). The novel, which is the first of Tremblay's recent 'Crossings' series, provides back-story for the characters of some of his other novels, including The Fat Woman Next Door is Pregnant."
Glenn Bergen of University of Manitoba Press will be looking for Aboriginal Music in Contemporary Canada: Echoes and Exchanges, edited by Anna Hoefnagels and Beverley Diamond (MCGill-Queen's University Press). "I'm excited to see how Indigenous issues are approached through the study of music and public performance, and I'm curious to see how the collection combines personal reflections by musicians with scholarly work," writes Glenn. Incidentally, Beverley Diamond was a Congress 2011 Big Thinker.
Finally, Leigh Nash of Coach House Books gushes about Missy Marston's debut novel The Love Monster (Vehicule Press). Says Leigh, "It's a tall tale of one woman's mid-life crisis, and how hope 'comes in the form of a dope-smoking senior citizen, a religious fanatic, a good lawyer and a talking turtle… [and] a love-sick alien speaking in the voice of Donald Sutherland.' What's not to love?"
The Expo will be open from 9:00 to 18:00 at Wilfrid Laurier University's Athletics Complex from May 26 to June 1, and from 9:00 to 11:00 on June 2. Click here for a full list of exhibitors.